Guide: Cree promotes the popularization and application of LED lighting through persevering innovation, practicing the mission of Cree, leading the LED lighting revolution, eliminating low-energy lighting, and fully accelerating the wide application of LED lighting.

Cree's LED-leading technology helps to achieve significant energy-saving effects on road lighting, and fully meets national road lighting standards in terms of light efficiency, brightness, illumination, heat dissipation, and longevity, achieving faster return on investment, and brand and knowledge. The property rights advantage protects customers and helps customers lead the market. Technology leadership will better promote market leadership and help companies achieve stronger growth in LED lighting revolution.

For the field of LED road lighting, Cree currently introduces XM series, XP series, XT series, XB series, CXA series and other cost-effective lighting-level LED products, fully satisfying customers' product design requirements for different market positioning, helping customers achieve lower Products and solutions for system cost and higher lighting performance. This article will share the Cree Lighting XM series LED and road lighting reference solutions, while Cree looks forward to more technical exchanges with industry peers in the future.

Based on the revolutionary SC ® technology platform, Cree XLamp ® XM Series LEDs combine high light output, high reliability and high efficacy with LM-80 testing to meet ENERGY STAR requirements. The high-bay lights and street lights have laid a good foundation for the design of lamps with high light efficiency requirements. The XLamp ® XM-L2 LED is the industry's brightest, highest performance single-chip LED device delivering 186 lm/W of light efficiency. Compared to the previous generation of XLamp ® XM-L LEDs, lighting manufacturers are provided with 20% higher light efficiency and higher cost performance (lm/$). The brighter, more efficient XLamp ® XM-L2 LED delivers immediate performance gains. At the same time, XLamp ® XM-L2 LEDs help lighting manufacturers achieve the same brightness and use fewer LEDs at lower cost, and can help increase brightness with the same number of LED devices and the same power. Level.

Generally speaking, outdoor lighting requires high luminous efficiency, high luminous flux, high maintenance characteristics, etc. In addition, it requires more safety protection than indoor lighting, and requires better performance in terms of life and reliability. Light efficiency, optical communication, excellent light color quality, longevity and reliability are the advantages of the Cree XLamp® series. For the various street lighting products on the market, the high-efficiency series XLamp ® XM-L LED, XLamp ® XM-L2 LED devices are used in some of the module solutions and customer applications of street lighting applications, with lighting manufacturers or designers. Share and discuss with colleagues in the industry.

XLamp ® XM-L2 LED is one of Cree's best LEDs. Based on good performance, long life and color coordinate stability, and high cost performance, the 5,000 K color temperature and T6 are the design. Preferred

Figure 1. XLamp ® XM-L2 LED Brightness and Color Temperature Selection

Cree XLamp ® XM-L2 LEDs have been tested with the LM-80 to meet ENERGY STAR requirements, which provide a good foundation for safe and reliable street lighting design. XLamp ® XM-L2 LED is Cree's intellectual property light-emitting diode, which meets the patent regulations of various countries in the world and can be sold in any country.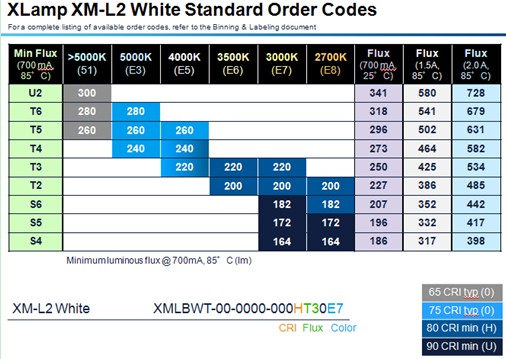 Figure 2. XLamp ® XM-L2 LED Parameter Characteristics and Ordering Standard Code

LED luminaires require a good cooling system to ensure long-term reliable operation of the luminaire. In combination with the optical and thermal requirements of the street lamp, we use the high-conductivity aluminum alloy structure radiator (LK-120531A) of Nanhai Yixin Aluminum Products Co., Ltd., the aluminum alloy material is AL 6063, and the surface anode is processed to ensure the LED operation. The junction temperature can be applied to the same size street lamp products in a suitable range.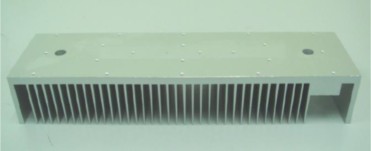 Figure 3. Heat sink structure

In terms of optics, a lens solution is used to complement our streetlight module design. The BAKON street lamp lens (BK-LED-443) is used, and the optical efficiency can reach more than 93%.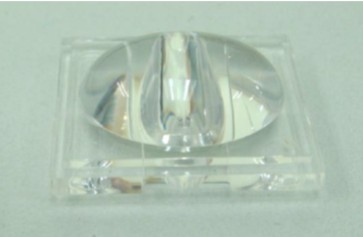 Figure 4. XLamp ® XM-L2 LED Street Light Lens

Through the combination of six components such as heat dissipation and optics, we have made street lamp modules made of LED components, aluminum substrates, heat sinks, optical lenses, waterproof and other accessories.

Figure 5. Street Light Module with 7 XLamp ® XM-L2 LEDs

Figure 6. Street light module with 14 XLamp ® XM-L2 LEDs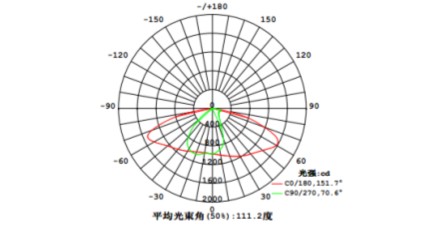 Figure 7. Street light module and light distribution curve

The measured data is compared as follows: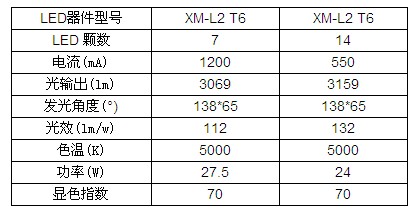 Table 1. Measured data of XLamp ® XM-L2 LED street light module

The test results show that the two 14 LED street light module solutions can achieve 3,000 lm light output, and the overall lighting efficiency exceeds 100 lm/W. The color temperature and color rendering index meet the requirements of street lamps. The structure is simple and easy to assemble. High quality street light design with different power.

2 times

Window._bd_share_config = { "common": { "bdSnsKey": {}, "bdText": "", "bdMini": "2", "bdMiniList": false, "bdPic": "", "bdStyle": " 0", "bdSize": "24" }, "share": {}, "image": { "viewList": ["qzone", "tsina", "tqq", "renren", "weixin"], "viewText": "Share to:", "viewSize": "16" }, "selectShare": { "bdContainerClass": null, "bdSelectMiniList": ["qzone", "tsina", "tqq", "renren" , "weixin"] } }; with (document) 0[(getElementsByTagName('head')[0] || body).appendChild(createElement('script')).src = 'http://bdimg.share. Baidu.com/static/api/js/share.js?v=89860593.js?cdnversion=' + ~(-new Date() / 36e5)];

Single Burner with Built in Hob

Single Burner Gas Stove,Stainless Steel Surface Hob,Single Burner Gas Cooktop,Single Burner Gas Hob

Xunda Science & Technology Group Co.ltd , https://www.xundatec.com