On January 5th, 2017, the 2016 Gaogong LED Annual Meeting·Golden Ball Awards Ceremony and the 10th Anniversary of the High-yield Industry and Research (2006-2016) celebration hosted by Gaogong LED were held in the theme of "Looking for the Future of LED". Shenzhen Long restarted the curtain.

On the afternoon of January 5th, the new outdoor lighting opportunity named by Xu Yu Optoelectronics, Xin Mingfeng, chairman of Jiansen Technology, gave a speech on "There is still a lot of cost reduction space for high-power LED power supply".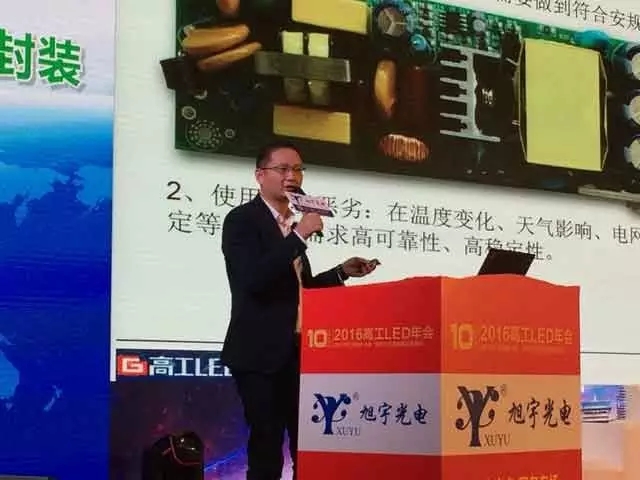 Xin Mingfeng, Chairman of Jiansen Technology

According to Xin Mingfeng, LED high-end power supplies have the characteristics of high power, harsh operating environment and high price. In particular, the problem of expensive high-end power supplies is more prominent.

At this stage, the competition in the overall street lamp market is becoming more and more fierce, and the decline in product prices continues to increase, but the proportion of power costs in the cost of the entire lamp has remained high, which has led to a gradual compression of profit margins. Among the cost of the whole lamp, the cost of the power supply is 39%, the cost of the lamp is 26%, the cost of the package is 29%, and the cost of the auxiliary is 6%.

Taking the 100W street lamp head as an example, the price of the whole lamp dropped from 7.5 yuan / watt in 2014 to 4.8 yuan / watt in 2016, a drop of 34%, but the price of power supply remained at 135 yuan in 2016, a decrease of only 28 %.

In the high-end power cost, the cost from raw materials is as high as 60%. Xin Mingfeng pointed out that when the price is constant, the number of components that can be accommodated on the integrated circuit will double every 18-24 months, and the performance will also increase. Doubled.

In terms of management costs, the future industry tends to concentrate, the market is more affordable, and efficiency is also increasing. In terms of cost of sales, the concentration of the market and the brand effect continue to increase. In terms of worker costs, the scale of a single product in the future will lead to the automation of production. All of the above can effectively control and reduce costs.

"Our goal is to achieve a 30% price reduction within two years, while ensuring customer satisfaction and quality stability." Xin Mingfeng introduced that it will solve all aspects of supply chain advantage integration, yield improvement, efficiency management and technology improvement.




Fashionable, powerful and portable battery clip Mini Fan: This portable mini fan is a ideal design for office work or home study.

Strong wind and no noise: The mini usb fan uses a brushless DC motor to provide strong wind while quiet, energy-saving and stable operation.

With USB cable: USB port rechargeable, powered by lithium polymer battery, our mini usb fan comes with usb cable which can be charged with computer, power bank , mobile power and other devices.

This portable clip mini fan is very convenient. With small size and light weight, you can put it or clip it where you want. 360° vertical and horizontal rotation, it is also better for baby stroller, car backseat or anywhere that need cool air.

Small Clip On Fan,Clip On Desk Fan,Clip On Oscillating Fan,Battery Operated Clip On Fan

SHENZHEN HONK ELECTRONIC CO., LTD , https://www.honktech.com